We Understand High Security Fencing
Protecting your property and keeping your people safe and secure is an ever increasing management problem. So, when it comes to high security fencing, it is important to deal with people who understand the requirements and can provide the solutions.
Whether you're trying to keep intruders out or property in, having the right products and installation can make a difference. That's why we install products designed to meet your demanding security needs. We understand security fencing. After all, it's the reason we're called "The Commercial Fence Professionals".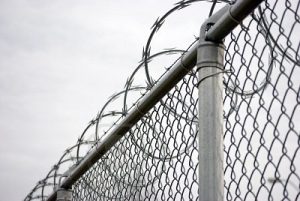 High security requires no-nonsense products
We can install a system that meets your security specifications and design criteria, using high security hardware from leading manufacturers. Because of this, there is no doubt about the quality of any of the materials. Safety is what you want with a high security fencing, Comfort is what you get when you let us build it for you.
Quick and easy installs
Don't worry, we won't be getting in the way of your place of business. Here at C & C Fence, we take pride in how quickly we install high security fencing. When it comes time to install your new fence, we'll work with your schedule.
Are you ready to experience high security fencing?
The security and safety that our fences provide can be invaluable. If you think having a high security fence installed is the right choice for you, Click here to be redirected to the Contact Us page. Not totally convinced yet? That's okay, Check out another page on our website and learn more About Us!