Warehouse Partitioning & Plant Cribbing
Interior Fencing,  Warehouse Partitioning, Tool Cribbing  and Restricted Access Control
Planning and controlling today's plant and warehouse work environment can be quite a challenge. Security and safety issues are a concern for all businesses, especially those who control high theft stock or manage hazardous operations and/or materials. Secure your property with our Warehouse Fencing options.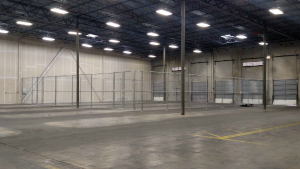 We offer a full line of leading brand products. All of them are built tough to provide the reliability you need to keep you and your business running efficiently and safely. If your top priority is reliable and stable interior fencing then we have you covered! Every job from the small to the large will be tackled with the same enthusiasm and commitment that you deserve. Your project is handled by our professional, and thus well prepared, team. Another reason to hire C & C Fence is because of our honest and reputable business practices.
PRODUCTS TO IMPROVE SECURITY AND OPERATIONAL EFFICIENCY
We have products specifically designed to meet your warehouse requirements and installation needs. Our extensive product line includes Heavy Gauge Chain Link fencing, Coated Chain Link fencing, PVC Coated Chainlink Fencing, Electronic Access options, PVC Slats in Chain Link and Wood Privacy fences can be a great solution when privacy is a concern, when you want your high value items to be unseen.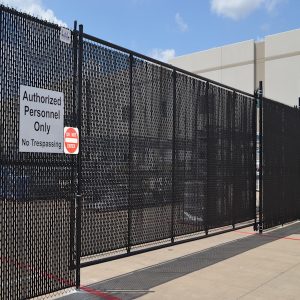 Whether your concern is theft, safety, traffic control or secure and efficient material distribution. The right fencing products and installation methods can make a difference. That's why we only use products designed to meet your operational requirements. We understand interior warehouse fencing. Customer satisfaction is our priority.
Our Promise
Every interior warehouse fencing project has its own unique needs and requirements. That's why we use only products designed to meet your operational requirements. As "The Commercial Fence Professionals" we understand interior warehouse fencing.
We also offer continued Repair and Maintenance after the initial installation has been completed. We have you covered from beginning to end and then some, here at C & C fence! To learn more about Repair and Maintenance services we offer, you can view our Repair and Maintenance page.